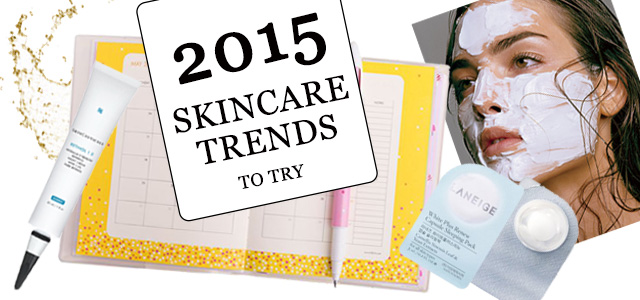 Just as fickle as fashion, the beauty industry updates and changes its mind about what's best for skin, mind and body every year. If current predictions are anything to go by, in 2015 we'll be souping, not juicing, obsessing about pores rather than wrinkles and replacing face-saving injectables with skincare. Here's a look at what we are predicting will be big in skincare in 2015.
1. ESSENCES
If you haven't heard of essences, they're an Asian skin-care import that are as light as toners—but instead of cleansing or stripping the skin with alcohol, they hydrate with a humectant, like glycerin.

And if adding an extra product to your skin-care routine sounds like a pain, we've got two good reasons to reconsider: First, essences make skin really dewy right away; second, they make the rest of your skin-care routine more effective. Essences soften dead skin cells on the stratum corneum, so anything you put on top penetrates the skin more effectively. You can wear one under serums for an extra hydrating or anti-aging punch without feeling it on your skin. Try Shiseido Eudermine Revitalizing Essence (a cult favorite) or Estee Lauder Micro Essence Skin Activating Treatment Lotion.
2. PEPTIDES
They're one of dermatologists' favorite anti-aging ingredients because they signal skin cells to produce more collagen—the stuff that makes your skin firmer, smoother, more glow-y, and all-around younger-looking. We like the Glotherapeutics Super Serum and Clinicians Complex Peptide Serum, since they contain peptides called matrixyl and argireline that have some of the best science behind them. Another benefit of peptides? They can make undereye circles less noticeable by thickening collagen in the area (we like Kinerase C8 Peptide Under Eye Treatment).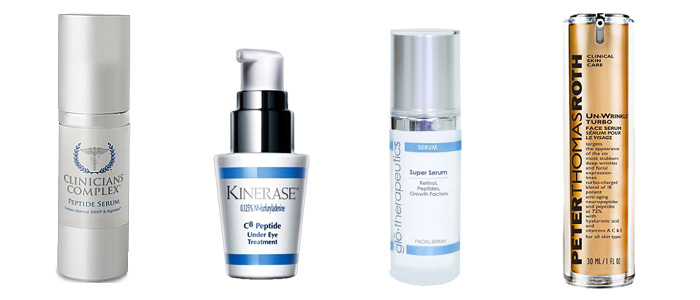 3. GROWTH FACTORS
As you age, your body's natural stores of growth factors decrease significantly. This results in the loss of your natural collagen, collagen-preserving chemicals, antioxidant stores, and antioxidant-preserving mechanisms, leaving you with thin, dry, sagging skin.
While many skin care regimens are designed to boost collagen or antioxidant levels, growth factors are designed to increase the production of everything within your skin naturally. Topically-applied growth factors have been shown to stimulate the production of collagen within the skin. This results in an increase in skin firmness and elasticity.
We love Skin Medica TNS Ceramide Treatment and Peter Thomas Roth Firmx Growth Factor Extreme Neuropeptide Serum.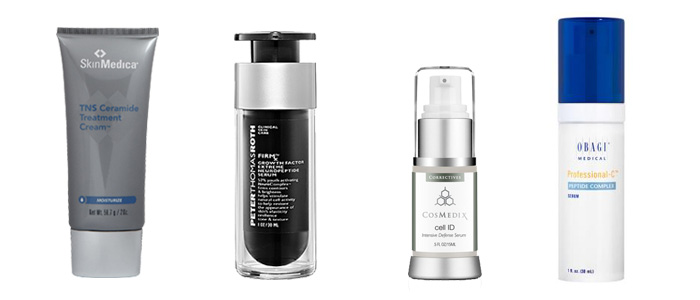 4. RETINOIDS
What boosts collagen, softens skin, evens texture, and fades dark spots? A seven-letter ingredient that goes by the name of retinol! The data is clear: People who regularly use retinoids simply age better than women who don't!
Eyes first: This is where lines show up first, and it's where your skin really needs the collagen boost. Start by placing little dabs under your eyes, at the outer corners, and along the orbital bone, then gently blending the dots together, avoiding the lower lash line.
Peel off: Retinoids can make your skin flaky, especially at first, but they actually work by increasing the activity of enzymes in the skin that make more collagen. So don't confuse that initial flakiness with true exfoliation, and keep using your masks, peels, and scrubs. The peeling is certainly not why people start looking better. In fact, it's why most people give it up. Retinoids work at a much more profound level by affecting gene expression and causing enhanced collagen production, skin smoothing, and evening out of pigmentation.
We can't live without Skin Ceuticals Retinol 1.0 Maximum Strength Refining Night Cream and La Roche Posay Redermic R Eyes Dermatological Anti-Aging Eye Corrector.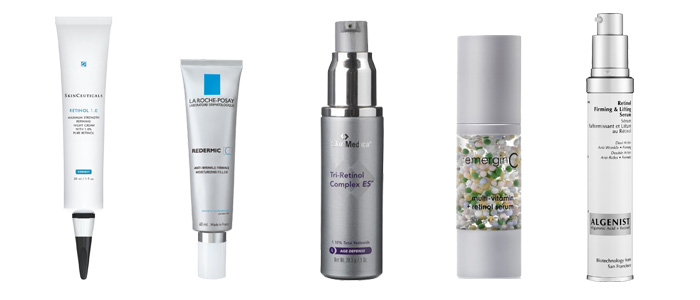 5. KOREAN SKINCARE
In general, Korean skin care is at least 10 years' ahead of skincare in Australia. So unless you have sensitive or easily-irritated skin, Korean skin care can be a worthy investment. And we do mean investment of both time and money: The traditional Korean skin care regimen consists of 11 lengthy steps, all of which work together synergistically to leave your skin smooth and glowing.

The 11 steps:

Prep - Try Payot Les Demaquillantes Express 3 in 1 Cleansing Wipes For Face, Eyes & Lips
Pre-cleanse - We love Dermalogica Pre-Cleanse
Cleanse - We love Philosophy Miracle Worker Miraculous Anti-Aging Lactic Acid Cleanser & Mask
Buff and Exfoliate - We love Algenist Multi-Perfecting Detoxifying Exfoliator
Toner - Try Missha Super Aqua Hydrating Toner
Essence - We can't live without Estee Lauder Micro Essence Skin Activating Treatment Lotion
Ampoule - Try Babor Fluids FP Collagen Booster Fluid
Sheet Mask - We love Olay Aquaction Nourishing Hydration Mask
Eye Cream - We can't live without Shiseido Bio Performance Super Corrective Eye
Emulsifier (Korean translation for Moisturiser) - We love Peter Thomas Roth Max All Night Repair Youth Restoring Intensive Concentrate
Sleeping Pack - Try Laneige White Plus Renew Capsule Sleeping Pack
The routine takes about 30 minutes, but you will be left with skin looks retexturized, hydrated, and smooth.
Korean brands to try are Sulwhasoo, Dr.Jart+ and Missha.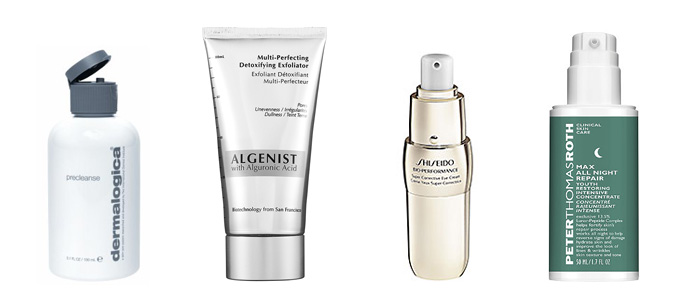 6. COCONUT OIL
Coconut oil is having a moment. Supermodels like Gisele and Miranda Kerr swear by the stuff—and women everywhere are slathering it on (often straight out of the jar) everywhere. It's being used as a frizz tamer, eye cream, cuticle oil, makeup remover...you get the picture.Whether you're using it as a makeup remover or a hair mask, coconut oil packs a serious beauty punch. We expect to see coconut-based products in every beauty store aisle. We love Joey New York Quick Results Polynesian Coconut Water Beauty Pads, Eminence Coconut Sugar Scrub, and Eminence Coconut Cream Masque.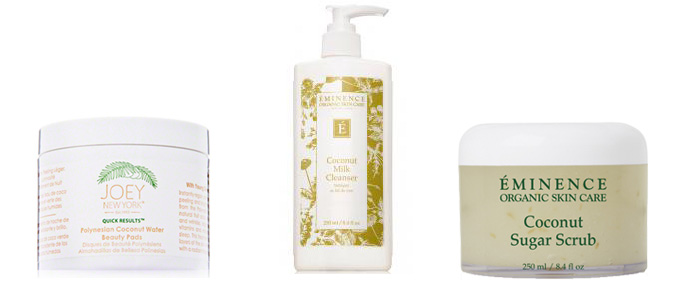 7. EE CREAMS
Just when we thought we had BB, CC and even DD creams mastered, we find ourselves with, you guessed it, EE creams. Estee Lauder has unveiled the world's first EE cream - an abbreviation for the more long-winded Enlighten Even Effect Skintone Corrector SPF 30.
The product aims to help break the cycle of daily assaults and irritation that lead to hyperpigmentation and dark spots. Understanding that discolouration is a top, universal concern for women, Estée Lauder Scientists have been researching the day/night rhythm of pigmentation. They discovered that our skin becomes aggravated by UV rays and pollution in the day and dark spots, discolouration and other types of hyperpigmentation are exacerbated whilst we sleep. They therefore developed a cream packed with an ingredient called Baicalin, which aims to minimise the visible effects of irritation from pollution that can trigger the formation of excess pigment and dark spots.
To give skin an overall more even effect, this smooth, fluid creme includes color-correcting pigments that promise to give skin a naturally luminous finish.
For best results, pair with the Estee Lauder Enlighten Dark Spot Correcting Night Serum.
Other beauty articles you may be interested in: