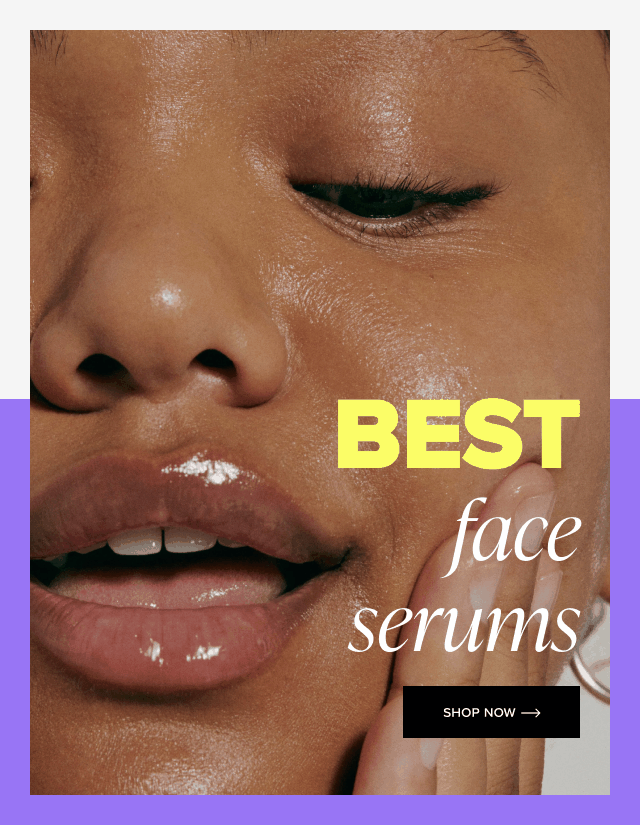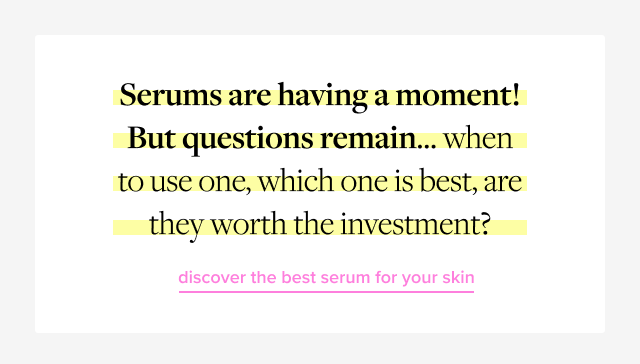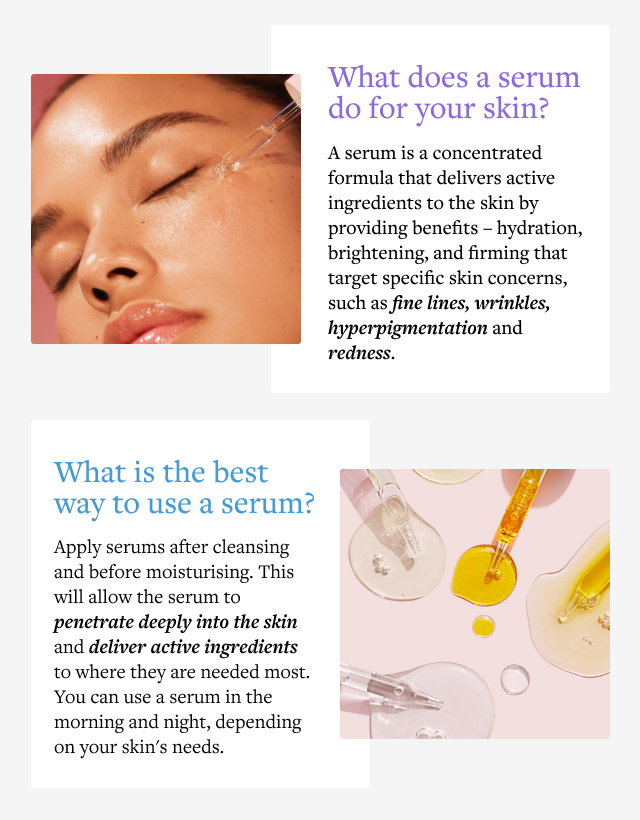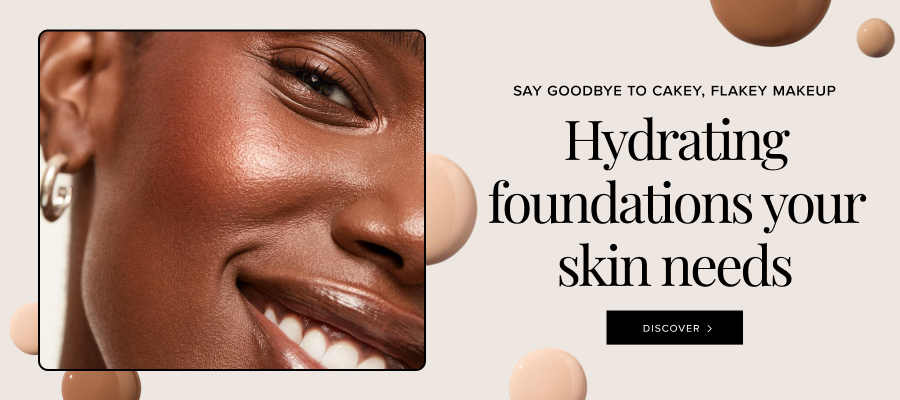 The Best Face Serums for Every Skin Concern

Serums are having a moment! But questions remain… when to use one, which one is best, are they worth the investment? So to help you navigate the world of serums, here is our guide to get the best out of your serum and understand which ones are best suited to your skin type.

What does a serum do for your skin?
A serum is a concentrated formula that delivers active ingredients to the skin, providing targeted benefits such as hydration, brightening, and firming. The active ingredients in a serum are formulated to encourage more potency of the active compared to a moisturiser and as such target specific skin concerns, such as fine lines, wrinkles, and hyperpigmentation and redness.

What is the best way to use a serum?
Apply serums after cleansing and before moisturising. This will allow the serum to penetrate deeply into the skin and deliver the active ingredients to where they are needed most. You can use a serum in the morning and at night, depending on your skin's needs.

The best serum for oily skin
The Ordinary Niacinamide 10% + Zinc 1%
A high-strength vitamin and mineral blemish formula that reduces the appearance of skin blemishes and congestion.

The best anti-ageing serum
Skin Ceuticals Resveratrol B E Antioxidant Night Concentrate
This resilience booster serum delivers skin radiance, elasticity and better density. Resveratrol BE reduces the visible effects of collagen breakdown for age-resilient, taut skin.

The best serum for dry skin
Vichy Mineral 89 Fortifying & Plumping Daily Booster
Amp up your skin's hydration cycle with this long-lasting serum that immediately floods skin with hydration, replenishes from within, helps prevent future hydration evaporation and repair the skin barrier.

The best serum for a dewy glow
Shiseido Waso Yuzu-C Glow-On Shot Serum
This bi-phase formula contains a superfood oil blend that feels nourishing and reveals more even-looking skin in four weeks. This oil serum helps achieve a luminous glow quickly and over time, for a radiant complexion without or under makeup.

The best eye serum
The Ordinary Caffeine Solution 5% + EGCG
Independent studies have shown that topical use of each of caffeine and EGCG can help reduce looks of puffiness and of dark circles in the eye contour.

The best retinol serum
IS Clinical Pro-Heal Serum Advance+
This serum is a dream blend of antioxidants: Vitamin C gets a boost from Vitamins E and A, and Olive Leaf Extract keeps things smooth and moisturised. Not to mention, Kojic Acid helps prevent blemishes making it a great all-in-one product.

The best brightening serum
Dr Dennis Gross Vitamin C Lactic 15% Vitamin C Firm & Bright Serum
This antioxidant-rich serum with powerful 15% L-ascorbic acid plus lactic acid acts to visibly improve signs of agieng -dark spots, uneven tone, loss of elasticity & firmness, fine lines, wrinkles, and dullness.

The best serum for sensitized skin
IS Clinical Hydra-Cool Serum
Formulated to rejuvenate, hydrate, and visibly soothe the skin. This refreshing, powerful, penetrating serum combines superior antioxidants with essential botanicals and bio-nutrients. Designed for all skin types and ages, it is gentle enough for even the most sensitive skin.