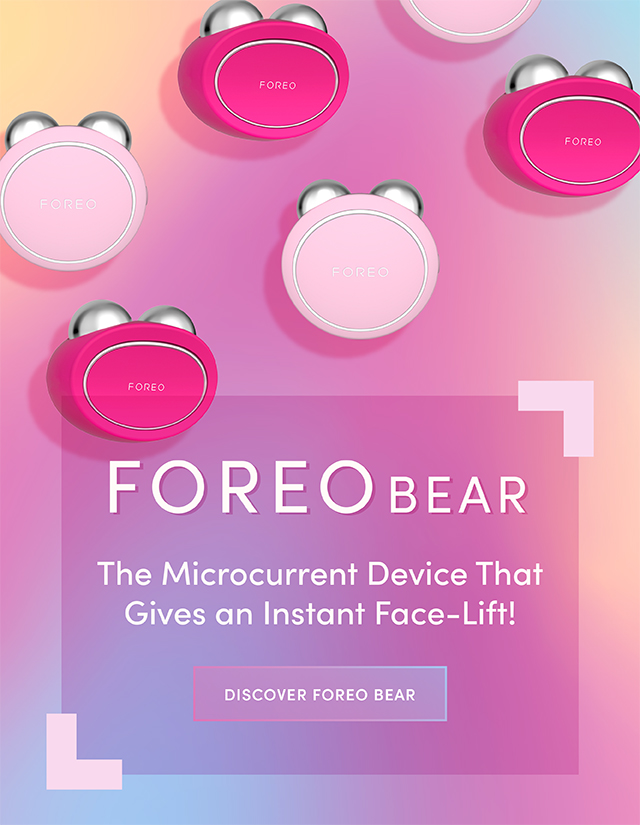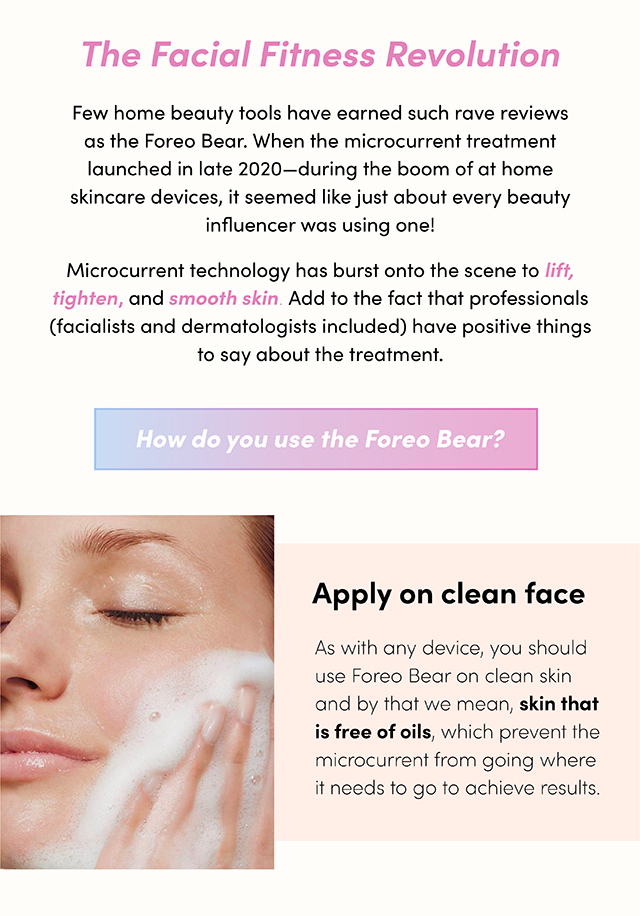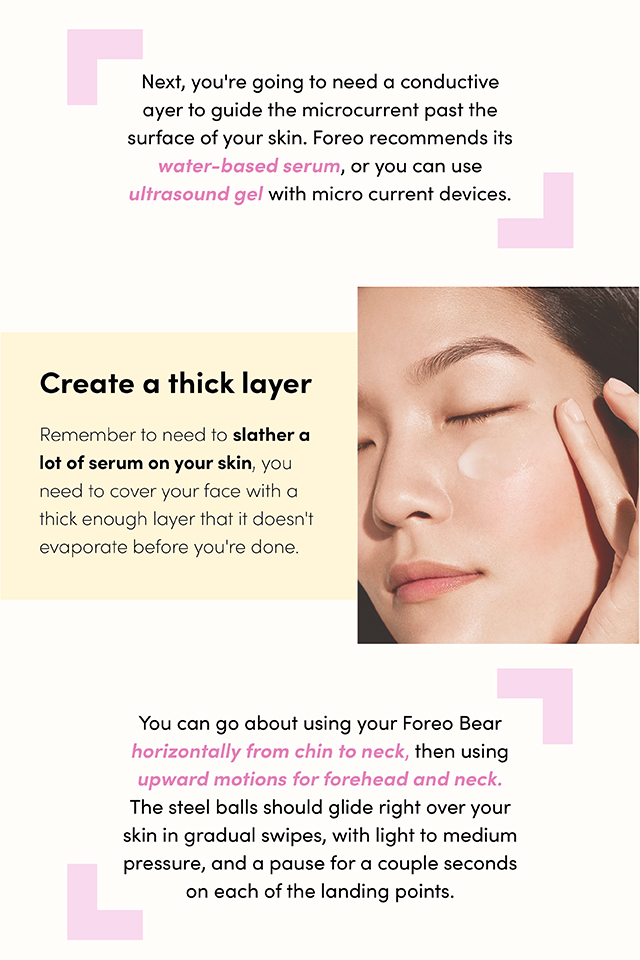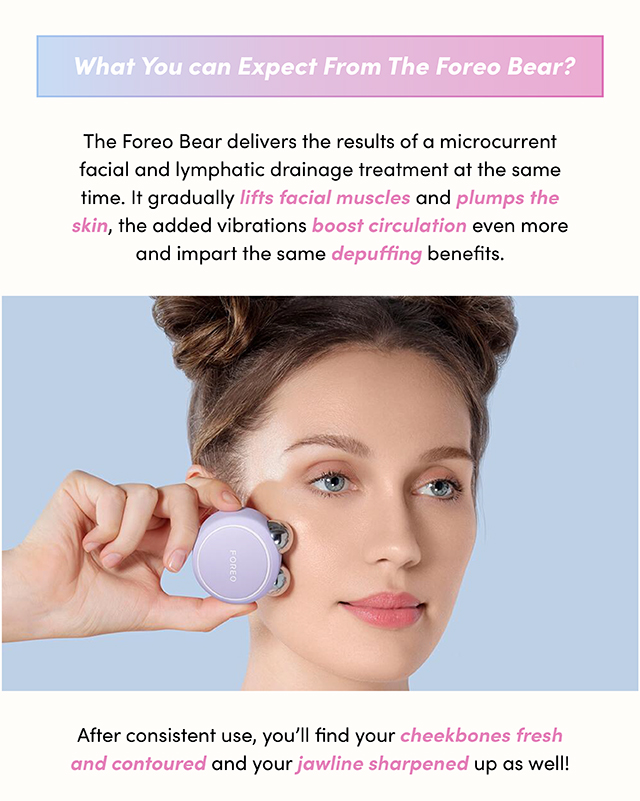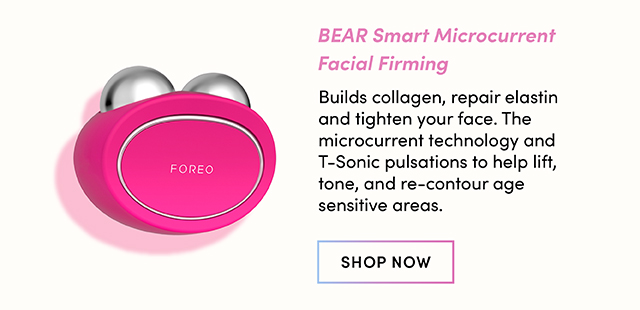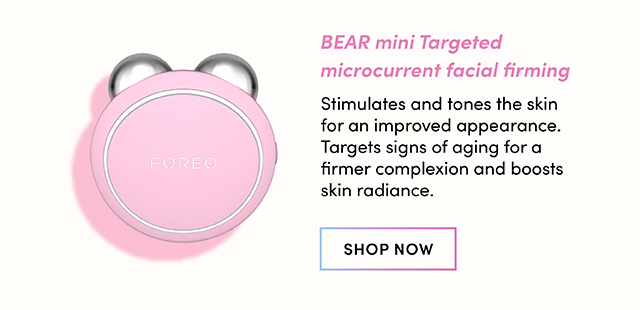 Foreo Bear: The Microcurrent Device That Gives an Instant Face-Lift!

Few home beauty tools have earned such rave reviews as the Foreo Bear. When the microcurrent treatment launched in late 2020—during the boom of at home skin care devices —it seemed like just about every beauty influencer was using one!

Microcurrent technology has burst onto the scene to lift, tighten, and smooth skin. Add to the fact that professionals (facialists and dermatologists included) have positive things to say about the treatment, and of course COVID lockdowns have meant no in clinic treatments and therefore this device has quickly earned cult status.

Both at-home and in clinic devices emit electric current to your skin that stimulates cell renewal and these devices can be used either on their own (in order to slow loss of elasticity and tighten facial contours) or as an add-on enhancement to medical treatments like injectables.


How do you use the Foreo Bear?

As with any device, you should use Foreo Bear on clean skin and by that we mean, skin that is free of oils, which prevent the microcurrent from going where it needs to go to achieve results.

Next, you're going to need a conductive layer to guide the microcurrent past the surface of your skin. Foreo recommends its water-based serum, alternatively, you can use ultrasound gel with micro current devices because it's water-based, contains conductive polymers, and comes in large quantities.

And remember, you're going to need to slather a lot of whatever you're using on your skin, no skimping here, please—you need to cover your face with a thick enough layer that it doesn't evaporate before you're done.

The Foreo Bear runs on a three-minute cycle, which you can extend if you need more time, lights come on, indicating intensity levels 1 to 5, with 5 being the highest intensity of electrical current. You can double-press to turn the accompanying T-Sonic pulsations on and off. It automatically switches off at the end of the three-minute cycle, but you can also long-press to turn it off earlier.

You can go about your use horizontally from chin to neck, then using upward motions for forehead and neck. The steel balls that conduct the current should glide right over your skin in gradual swipes, with light to medium pressure, and a pause for a couple seconds on each of the landing points.

What You can Expect From The Foreo Bear?

Microcurrent results are most visible when you use the device consistently, over an extended period of time. Foreo recommends using the device every day for two months to see full results. After that, you can gradually scale back to three times per week. According to Foreo, the Bear packs significantly more power and faster delivery time than other microcurrent devices on the market.

The Foreo Bear delivers the results of a microcurrent facial and lymphatic drainage treatment at the same time and as it gradually lifts facial muscles and plumps the skin, the added vibrations boost circulation even more and impart the same depuffing benefits.

After consistent use, you might find your cheekbones fresh and contoured and your jawline sharpened up as well!


BEAR Smart Microcurrent Facial Firming

Builds collagen, repair elastin and tighten your face. The microcurrent technology and T-Sonic pulsations to help lift, tone, and re-contour age sensitive areas.


BEAR mini Targeted microcurrent facial firming

Stimulates and tones the skin for an improved appearance. Targets signs of aging for a firmer complexion and boosts skin radiance.

---

At The Beauty Club, we believe in supporting those in need.
The Beauty Club supports women & children by donating $1 from every single order and you get to choose where it goes! After placing your order, simply select the cause you wish to donate to and we will send the money them through our partners i=Change.

Shop for Change >

---

Missed our latest beauty reports? Check out what you missed:

Superfoods for Superskin

Bright, Bouncy, Plump, Dewy Skin 🍑

Have you heard? Tatcha just landed!

Discover Parisian Beauty: By Terry